This item may become unavailable if someone else purchases it. Add it to cart to reserve!
4-Tip Brow Microblading Effect Pen creates flawless, long-lasting, defined brows without the permanence of true microblading. The revolutionary ink stain formula and brush tip creates precise, hair-like strokes, while the creamy, waterproof pencil fills in sparse areas. It's the ultimate temporary solution for pro-level faux brows. No need to commit to the pain and cost of eyebrow tattooing. With this duo pen + pencil, brows look completely natural, and last up to three days. Full, youthful brows are within reach!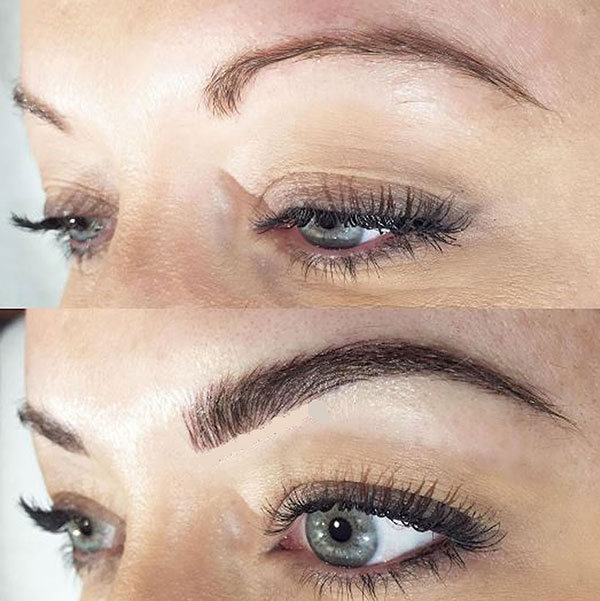 How to use:
Start with clean, dry brows. Shake the pen a few times with the cap closed. Scribble the tip of the pen around your wrist or hand to get the ink flowing the first time you use it.

Take cap off and begin filling in the brows, starting at the inner portions towards the nose. Use light pressure and a flicking motion. To achieve a darker effect, apply multiple layers.



Let dry for a couple minutes and go about your day! To remove, use makeup remover or let the brows gradually fade over the course of a few days.
Doesn't smudge
Lasts up to three days
Easy to apply
Microblade pen
Three shades available to suit most hair colors
Looks natural, like you were born with it!
We LOVE our customers!
FAQS
Q. How do I remove it?
A. Use regular soap or makeup cleanser to remove. Because the formula is waterproof, it will not wash off with water alone. It needs to be combined with soap or facial cleanser.
Q. How do I get the most out of it?
A. If you want your brows to last three days or longer, refrain from swimming or applying water directly to them. They are waterproof, but can last longer than three days if water is avoided. Sweat will not remove the brows.
Q. How do I know which color I am?
A. We recommend brunettes choose Grey-Brown, black or grey-haired individuals use Black, and blondes/red-heads use Light-Brown.
Q. Do I need to be artistic to apply this?
A. No! Although this product replicates the look of microblading, it is formulated and shaped in a way that is easy for anyone to apply! Even those who rarely wear make up will find it simple to use.
Ridiculously high demand: allow 10-20 business days for it to arrive (to be safe). Limit 5 sets per person.